Cobb County ZTA Alumnae Group

(one of the eight Atlanta (GA) area ZTA Alumnae groups)
---

Don't miss the final meeting of the year with Cobb County ZTA!
We'll gather again at Holli Hiltbrand's house for a cookout and awards. Anyone who would like to carpool from the Cobb Galleria area, please email Meredith Braselman. We still have a few gaps on the sign-up list. Please fill them in and let Kathy know what you're bringing so she can update the web site. We don't want four cole slaws and no dessert!

1 pack of hot dogs and buns:
Hamburgers and buns: Shelley Paris-Riden
Onions, Lettuce, Tomatoes and Cheese: Holli Hiltbrand
Condiments: Holli Hiltbrand
Baked Beans: Julie Martin
Potato Salad: Meredith Braselman
Cole Slaw:
Dessert: Jill Hulun
Dessert: Kellie Slaughter
1 bag of Chips and 2L Soft Drink: Julie Lawson
1 bag of Chips and 2L Soft Drink:
Ice AND Beer: Kim Rice

Directions to Holli's house:
Phone: 678-445-9010
117 River Marsh Lane, Woodstock

From 575 North, take Exit 8 and go right, towards Woodstock (away from Towne Lake) on Arnold Mill Road. Go through town, cross the railroad tracks, and stay on Arnold Mill for several miles. Go straight through the stoplight at Trickum Road, but turn left at the next light onto N. Arnold Mill Road. (There will be a round church on the right corner and a gas station if you go through the light.) At the 3-way stop, go straight; construction still going on here a little, so the 3-way stop may not be there. Take a left onto Turner Hill Road. My subdivision, River Plantation, is near the end of this road on the left. Once entering the subdivision, take the first right onto River Marsh Lane. The house is the 3rd on the left.



---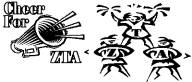 Zeta Data
Looking for a few (more) good officers! Do you have ideas to share, projects you'd like to be involved in or extra time on your hands? Then think about being a Cobb ZTA officer. Contact Donna Lowe or Meredith Braselman.
The annual Scholarship Luncheon is May 3 at the Dunwoody Country Club at 11 AM.
---
To find out more detailed information about our group
and upcoming events,
please e-mail your inquiry to Meredith Braselman.
Please include your full name, address and phone number.
We look forward to meeting you!

---
Call Jan for assistance in buying or selling a home.
A portion of her proceeds are donated to Cobb ZTA.
(770) 424-5578
Thanks Jan!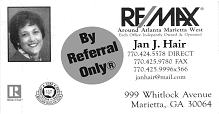 ---
Purchase music from this link (below) to CDNOW &
help our chapter raise funds for the ZTA Foundation!
Purchase books or gift certificates from this link (below) to Barnes & Noble to help our chapter raise funds for the ZTA Foundation!

New York Times Books@barnesandnoble.com
Recommended Reads
Gift Center

This page was last updated on 05/05/03.
If you have any questions or comments pertaining to this website, contact kimrice@dorey.com.